Description
If you want to capture precious memories of your pregnancy belly bump then this is for you.
We specialise in pregnant belly casts, also known as prenatal casts or pregnant bellymasking, and the final casting is a totally unique gift that can often be the centrepiece of your home and conversations.
The casts can be left plain or decorated (please enquire about decoration options), and make the perfect gift or keepsake for your family to treasure forever. It's your choice whether to just have your belly, or include your own hands, breasts, or possibly your partners hands too.
The ideal time to have your belly cast created is between 36 or 37 weeks, but we can often accomodate earlier or later weeks than this. The process is entirely safe and involves laying wet plaster bandages or alginate moulding material over the pregnant torso.

We have two choices of belly bump casting:,
Option 1: Wet Plaster Bandage Casting
Option 2: Deluxe Smooth Alginate Casting
Depending on your budget and choice of finish, we can recommend which of the options above would be suitable for you.
Option 1 – Plaster Bandages
We will cast the bump only using modroc, wet plaster bandages like they do in hospitals on broken limbs. A few layers are placed right over the whole bump or including the breasts. Once dry after approx 20 minutes it is removed. Once completely dry after a few days or so it can be painted in any colour you wish. The finish on this won't be that smooth as you can imagine it's just bandages but I do my best to get it as smooth as it will go.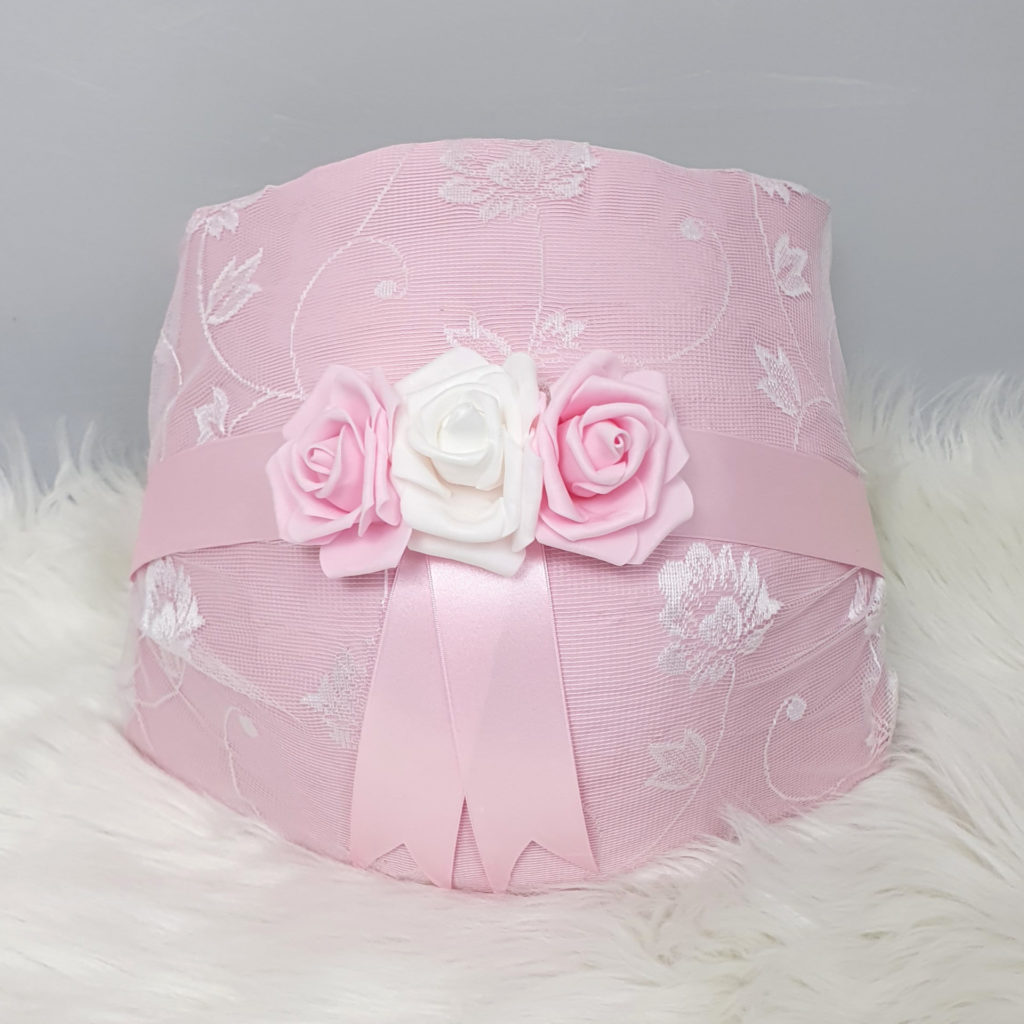 Option 2 – Deluxe Smooth Finish
If you're after a perfect finish to show the smallest of intricate detail such as the bellybutton which plaster bandages do not do show(this is just for creating a bump shell) then a deluxe smooth alginate casting is what you are after. With this type of casting it will show the finest of detail and looks fab with a hand or two or three or four placed nicely over and under the bump showing all details of the hand/s, any rings, veins and nails.
Castings are great to take as close to full term as possible around 36/37 weeks and is completely safe, however anytime from 30 weeks is fine too but of course the bigger the bump the more effective so 36/37 weeks is perfect.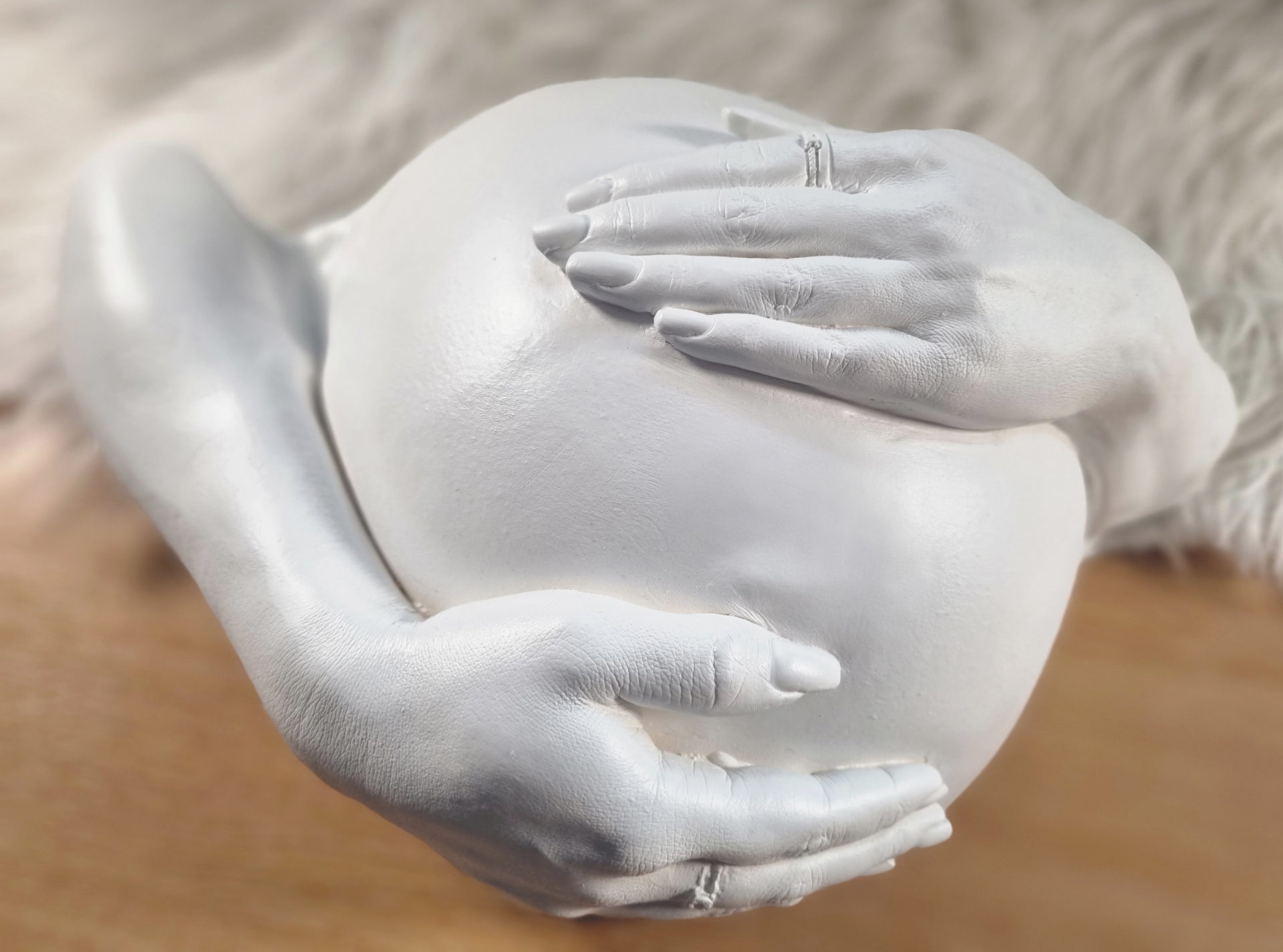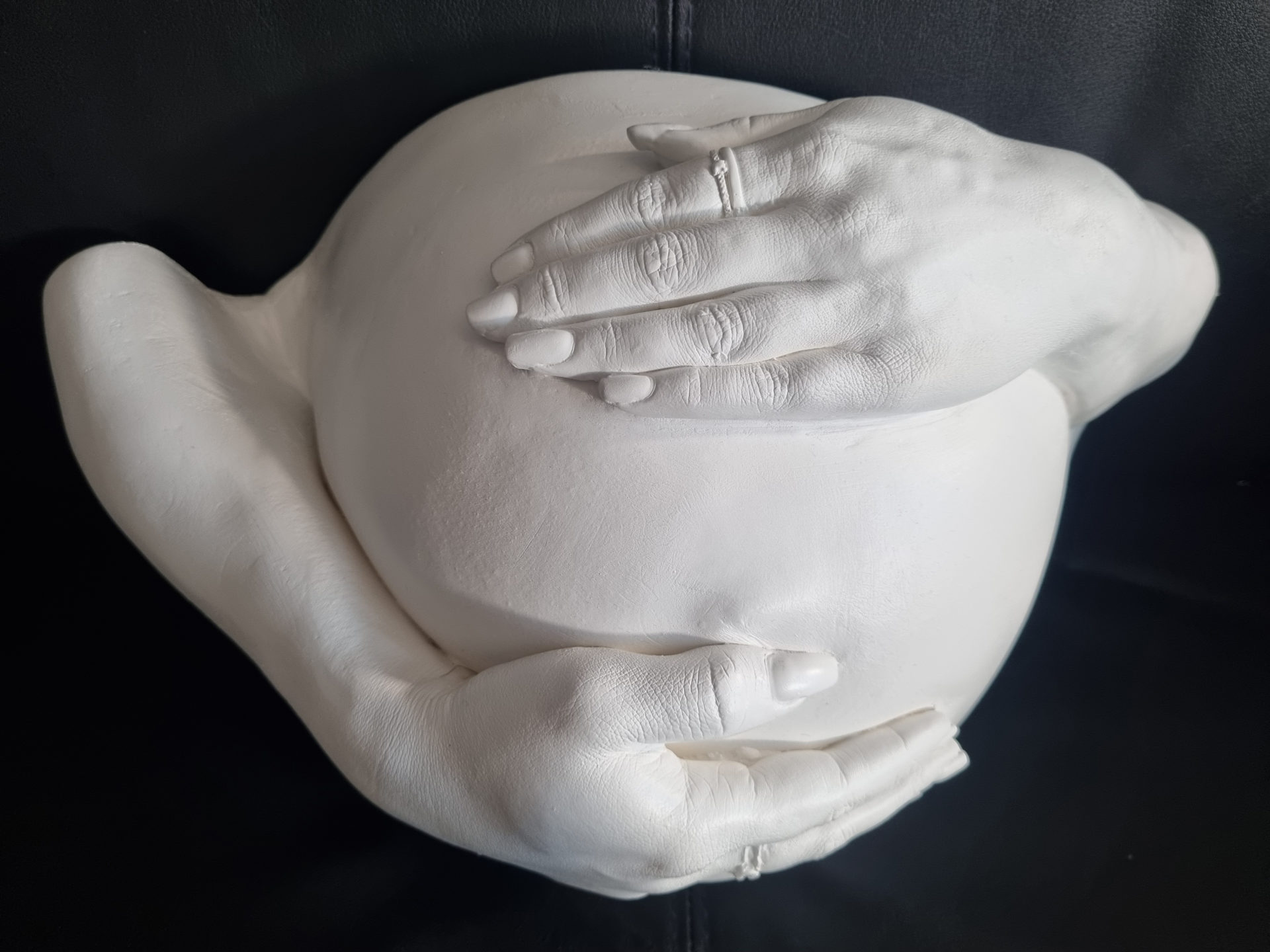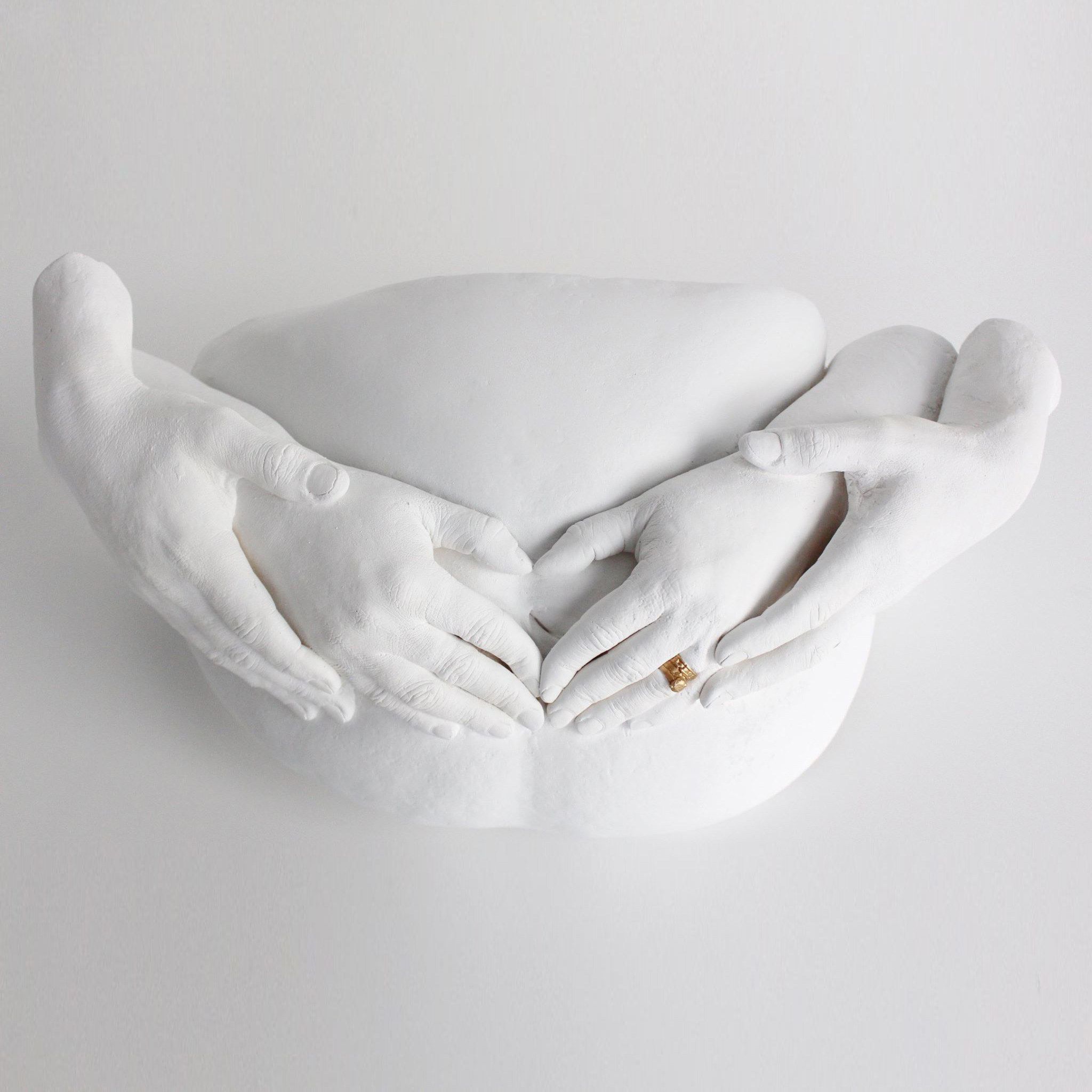 Blingy Belly Casting
If you want the ultimate in belly castings then choose our blingy belly cast option. We'll take a bandaged cast of your bump along with breasts too if required, and then decorate them with mirrored mosaic glass. See an example of a bump & breasts cast below – this particular one was even mounted in a frame.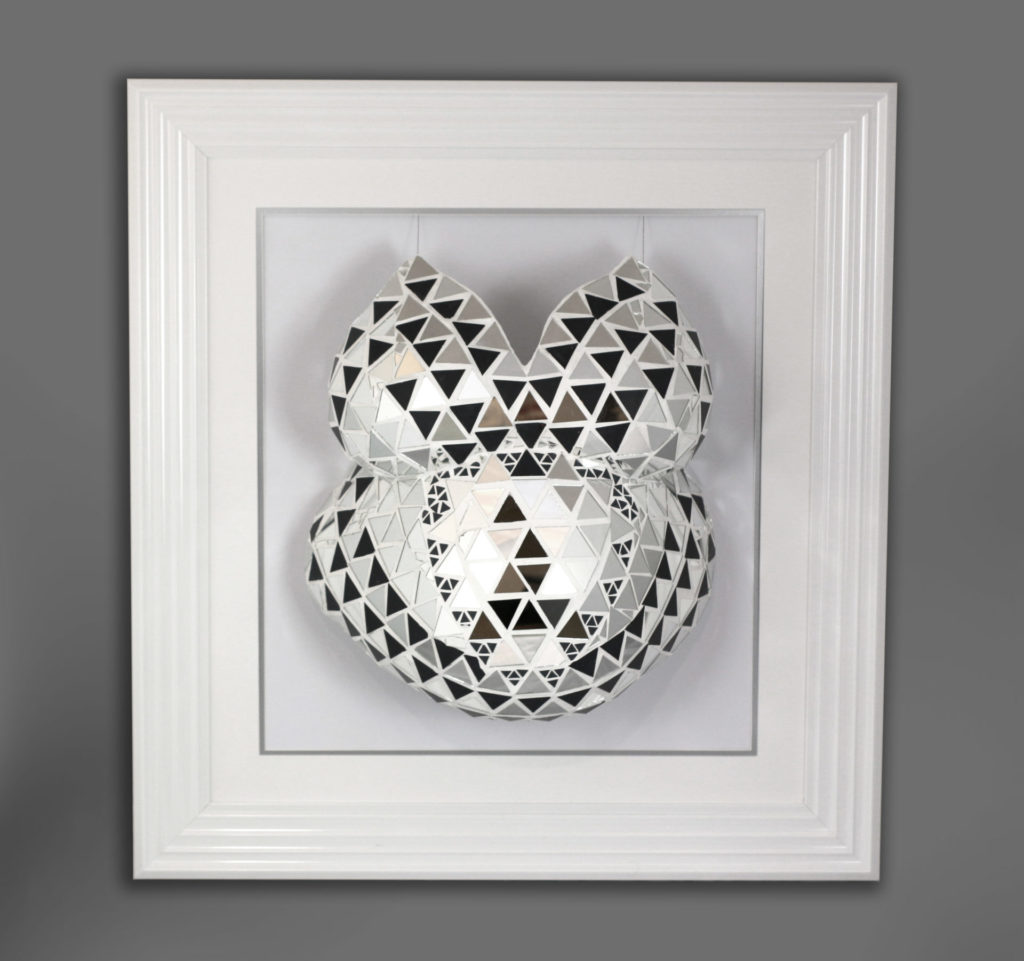 Decoration
All our prices above are for undecorated casts. Please enquire about our range of decorative options. We can also mount certain casts in a frame.