Are you looking for new ways to get the kids involved and stuck in this Christmas? Well, look no further!
I have made a list of fun arts and crafts for all the family to get involved with, so that even when you're stuck inside from the cold weather there are still things to do to keep the Christmas spirit fresh in your home – whether that be from making Christmas baubles with the family or building a gingerbread house. 
1. Christmas baubles
To start with, why not make some unique and personalised Christmas baubles? You can create your own Christmas bauble with your child's hand placed inside using the 'Crystal bauble hand casting kit' found on my website. These baubles are the perfect decoration for around your home as well as making sentimental gifts too. All you need is the kit, which includes the bauble and casting material inside. 
To create the cast simply follow the steps instructed in the kit you purchase or you can watch an instructive casting video here. Once the hand has been cast and made, simply put it inside the bauble and it will be completed. This bauble does come with a decorative stand however, you can use the bow attached to hang it on your tree if you prefer. 
This decoration is recommended for children at younger ages, around newborn – 8 years old. Overall this decoration may take 1-2 days to complete. The mould itself will only take around 10-15 minutes to create however, the casting will need time to dry overnight. Once completely dry it is then optional to paint and will only take a minute to place inside the bauble. Adult assistance is definitely recommended for this particular decoration. To keep within the Christmas spirit a good tip is to paint the cast either gold, silver or maybe a shimmery red!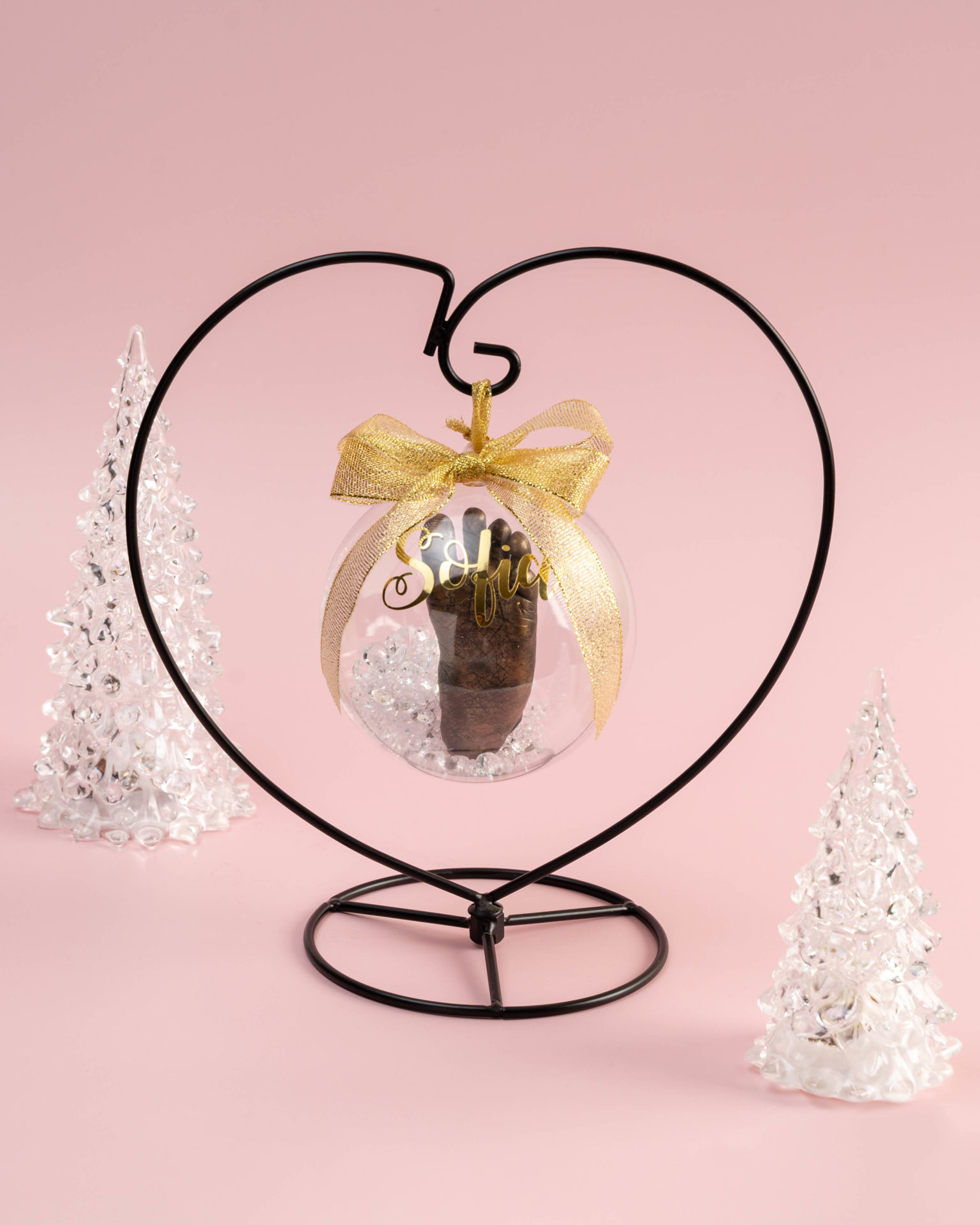 2. Father Christmas' plate
We all know how much our little ones love preparing on Christmas Eve for Santa to arrive. And one key part of this is leaving him his mince pie, milk and carrot. But why not make this special activity more personalised and fun by making a 'Father Christmas plate'?
For this decoration, you will only need a few craft supplies such as; a paper plate, pens, card, glue and maybe glitter (depending on how much mess you want to clean up). Simply let your kids run wild with any messages they may want to leave Santa or maybe just a picture they want him to see when he arrives. 
I would recommend this DIY activity for children aged 4-8 years old and adult supervision should be noted if any scissors are involved, or glitter! An extra tip could also be to make a card for Father Christmas just to leave him any messages that won't all fit onto your paper plate. 
3. DIY Christmas cards
We all love receiving cards from loved ones and friends at Christmas but why not make them even more special with a personalised touch? Whether it be cards going to friends at school or family members, your kids can enjoy creating their own Christmas cards to send off for everyone to enjoy. 
Much like the 'Father Christmas plate' only a few craft supplies will be needed to complete this DIY craft. Such as card, pens, pencils, glue and glitter. All your child will need to do is simply fold an A4 piece of paper and add any Christmas themed decorations on the front as well as a personalised message inside. If you want to go the extra mile why not make it a popup card? Here is a video on how to easily make one. 
This craft is suitable for all children from the ages of 4-11 years old. Once again if scissors are involved parental supervision is advised as well as any help needed with spelling for their special messages. This decoration should only take up to 30minutes however, it all depends on how creative your child wants to be, as well as how many they will be making! 
4. Festive handprint Christmas tree
Here's one to get all the family involved! All you will need is some paint and brushes, and a good time to get all of the household together.
The idea is to build a painting of a Christmas tree using the hands of everyone in the family. A good tip is for the adults to place their handprints at the bottom of the tree as they will be much larger. Whilst the child with the smallest hands will place theirs closer to the top where the tree becomes much narrower. Once the painting has been finished and left to dry, you can then go over with colours like, red, yellow and blue to add lights and baubles to your tree as well as a star!
I would recommend this decoration to families with children ages around 2-11 years old, however, it can be fun for families with slightly older children to get involved with as well. All together this decoration should not take much over an hour to complete. 
5. Gingerbread house
This decoration is perfect for those who love a good decoration and a tasty treat! Gingerbread houses can be super fun to make as well as varying in difficulty depending on how big or small you want to make it. 
All you will need are ingredients to make gingerbread as well as added decorations as well. This includes icing, icing sugar, fruit pastels, jelly beans etc (however, all sweets are down to personal choice). Here is a gingerbread house recipe as well as an easy guide to building one too. The idea is to build pieces of gingerbread and then fit them all together using the icing. However, you make your gingerbread house look is completely up to you and your children. A good tip for all gingerbread houses is to make sure you let your baked gingerbread completely cool down before any construction otherwise the icing will melt and it won't set properly. 
I would recommend this decoration for slightly older children aged 6-11 years old as they will have a better understanding of building and patience of building something so delicate. It can vary in time though. Although since it will take a lot of patience, you will most likely be looking at spending around 2 hours on this decoration.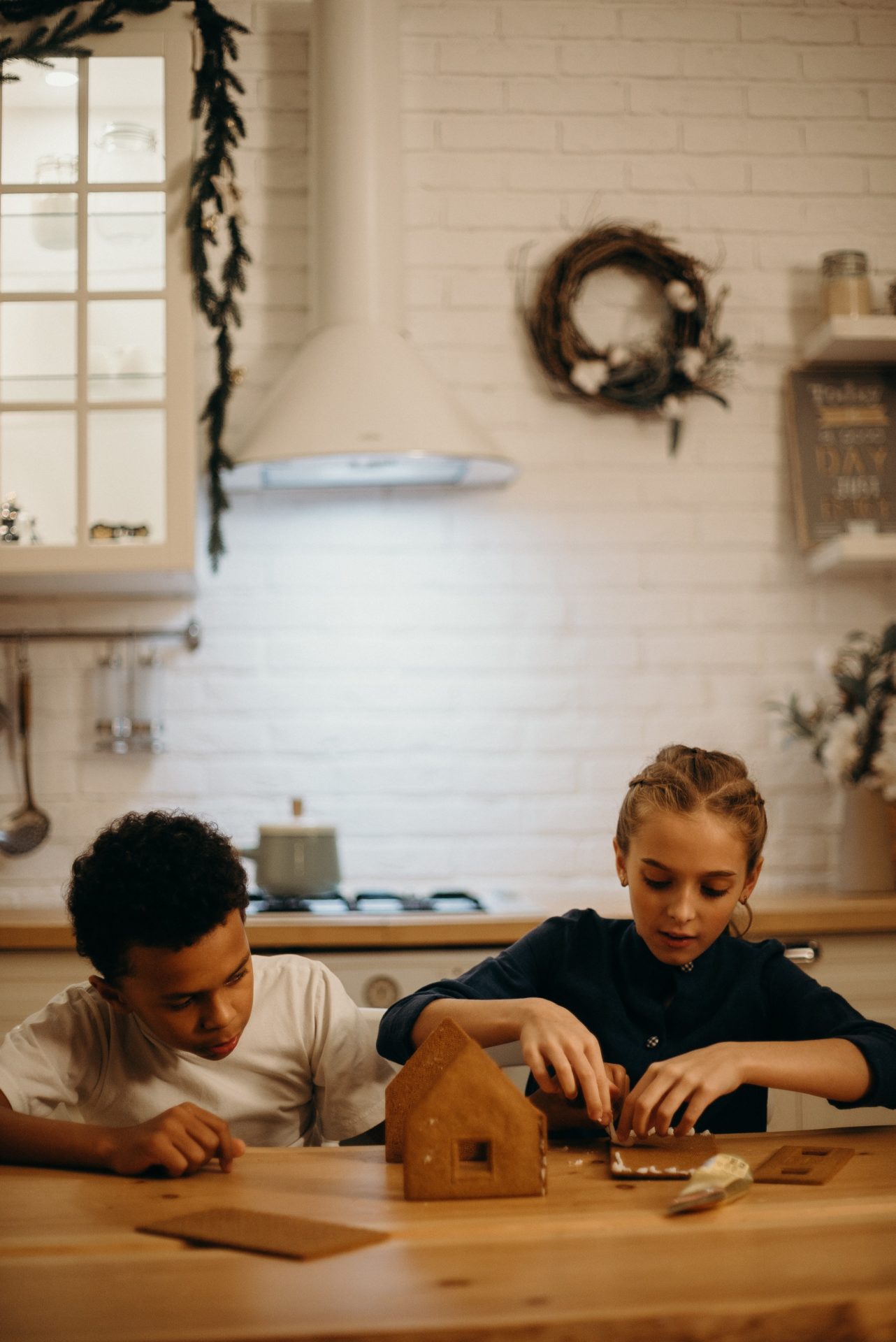 6. 'Santa stop here' sign
We all want to make sure we get our presents on Christmas so why not make sure to get Santa's attention with a stop sign? 
This simple decoration only needs some card, pens, paper, and scissors to be completed. You want to make sure you have some red card or red coloured paper as a background. You may then need adult help with cutting this card into an octagon (like a stop sign). Then simply include the message "Santa stop here!" with some white pens or white card. You can then either find a small piece of wood to put it into your front lawn, or another good tip is to get some blu tack and either stick the sign to a window or front door. 
I would recommend this decoration to kids ages 3-8 years old, and it will only take a short time of around 30 minutes to complete. 
7. Make your own stocking
All children love waking up to find any extra gifts left in their stockings. But why not make it even more fun by helping them create their own personalised ones?
All you will need for this decoration is a pillowcase, ideally red, however, any pattern or colour will do. As well as some added fabric for the trim and some sewing materials. To complete this decoration all you have to do is download the simple pattern to follow online and sew your pillowcase into a stocking! Here is an easy to follow guide with all the steps you need. 
I would definitely recommend this decoration to children aged 8-11 years old as it is slightly more difficult to complete, and there are sharp objects involved. This decoration should take no longer than an hour to complete. 
8. Name cards for the Christmas dinner table
Have a large family coming over for Christmas dinner? Why not make it more fun and memorable by giving everyone their own name cards. This task is simple and enjoyable, not to mention fast!
All you will need is a few craft supplies like card or paper, pens and pencils. Simply cut any A4 pieces of card into thinner strips to then be folded so that they can stand on their own. Let your children decorate them with the guests' names and then you are ready to go. A fun tip for this decoration could be to add glitter and really make the name tags stand out on the table. 
I recommend this decoration for children aged 4-6 years old as there is not too much difficulty involved and only some adult supervision is required for scissors and any glitter involved. Depending on how many guests you have arriving, this particular decoration should not take longer than an hour to complete.  
9. DIY Snow Globe 
Want to try out something different to make this Christmas, why not build your very own snow globe? This fun craft can make cool seasonal decorations to place all around the house, not to mention being interactive too! 
You will need a few supplies for this decoration including a small glass jar, a small figurine (Christmas related), glitter and a hot glue pot/ super glue. Firstly you want to use the glue to stick the chosen figurine to the inside of the lid of the jam jar. You then want to fill the jar with water, add some glitter to the water and finally screw the lid back on. If you then flip the jar upside down you will have your very own snow globe! A little tip for this decoration is that you can add glycerin to the water to make the glitter fall better when shaken however, this is completely optional. You can watch a video tutorial of this decoration here.
I would recommend this activity for children from the ages 4-11 years old. It is suitable for all ages and even slightly older kids will still find this a fun activity to complete. Overall this is a pretty easy task to complete so it will take just under an hour until your snow globe is ready. 
10. Snowflake paper chains
How about something traditional to make this Christmas? This is probably the most simple and easy decoration to complete on my list, snowflake paper chains. 
All you will need for this decoration is paper and scissors. Simply fold the paper into a thin strip lengthways. Then turn the paper so it is facing vertical towards you and fold a small square shape away from you. Repeat this shape on the other side of the paper and repeat this pattern until you are left with a single square with multiple layers. Then simply cut into the square for the desired pattern you want, it is recommended to keep within a star shape so the end result will look like a snowflake. Once all the layers have been separated you should be left with a snowflake paper chain. A good tip for this decoration is to draw out the pattern you want to cut out beforehand so you have an easy guide to follow. 
I would recommend this decoration for children aged 3-8 years old as it is simple and easy to complete. Of course, adult supervision is recommended when scissors are being used. The estimated time to complete this decoration is around 10-15 minutes.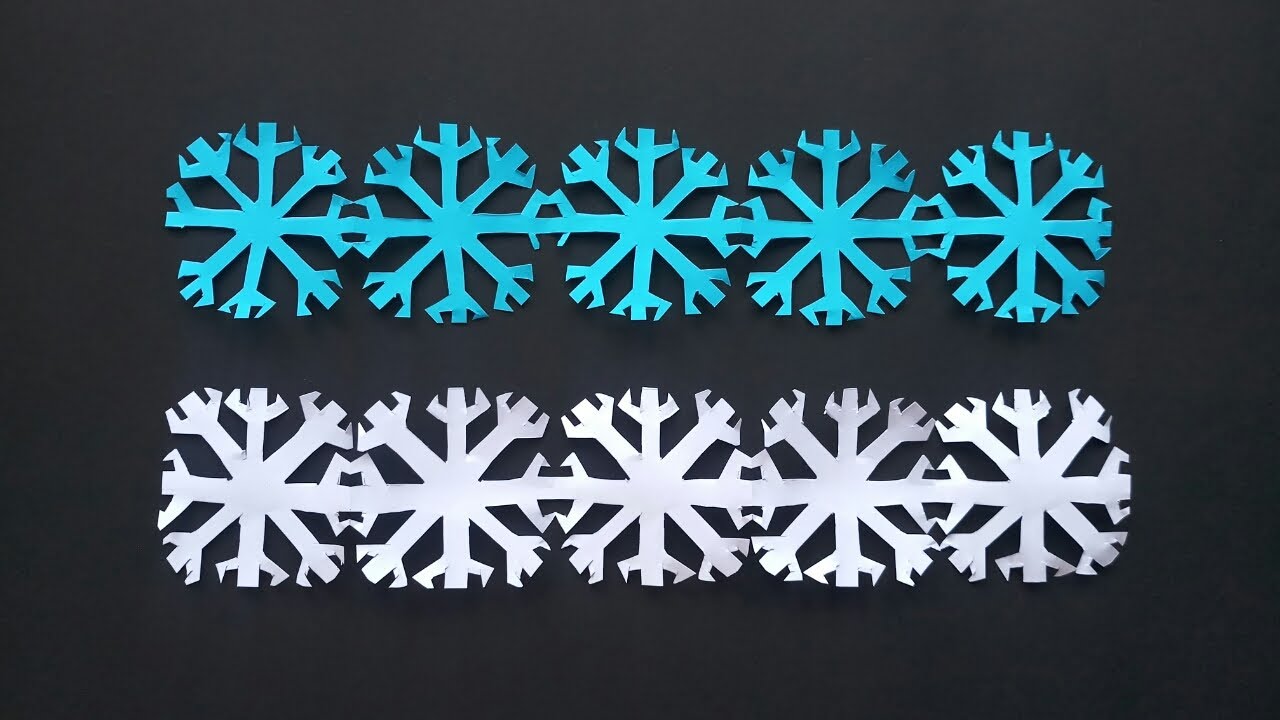 Hopefully, within this list, you are able to create your own perfect decorations this Christmas. And, if you are still looking for gifts for friends and family why not take a look at the casting kits I offer?