Christmas is always a special time of year for friends and family as it brings everyone together to have a magical time. Many families have different traditions during Christmas so we have made a list of our favourite ones.
Secret Santa
Secret Santa is a great way to get festive and is a classic Christmas tradition people around the world take part in every year. It's a simple tradition to take part in too which makes it that much more enjoyable! The way it begins is there is a group of you, could be friends, family or work colleagues and you all randomly get selected to get someone in your group a present. 
To make this fair from the beginning, you all agree to a spending limit so that you can all get each other a gift that is of equal value. A simple gift idea could be getting a present that the person loves e.g. favourite chocolate, hand warmers. The more creative the idea the more exciting Secret Santa gets as when you are all stood eager to open your gifts that you got, you will have no idea what it will be. 
For children this is another opportunity to get more presents from your friends, however for teenagers and older audiences this is a great way of showing your appreciation  for your friends – as you're much older and grown up. Also, you'll always be surprised with the gift you get which makes it that much more meaningful! This is one Christmas tradition you do not want to miss this year.
Elf on the Shelf
Elf on the shelf is a more modern Christmas edition but still fun to get involved with nevertheless. It's a great way of keeping your children behaving leading up to Christmas, as you simply place the elf somewhere so that your children can see Santa's little helper but not touch it as it would ruin the tradition!
There are two main rules for this tradition, the first being children are not allowed to touch the elf or it will lose it's magic. So it is wise to place the elf in a position where your child can not accidentally touch or pick it up. If by mistake the elf has been moved then the kids will have to write a letter to Santa and apologise for the bad behaviour. This will also teach your children to not touch what isn't there's – a good life lesson!
The second rule is that the elf shall not move or speak whilst the kids are awake. The elf only moves at night to go back to the North Pole and update Santa if they will go on the naughty list or not. This tradition is a good way of keeping your children well behaved but also excited as they will keep believing Santa is real and he will give them all the presents that they would like this year.
Count down with an advent calendar 
One thing that always gets children excited and ready for Christmas is when they get a chocolate advent calendar on the first of December. Not only does it help them countdown to when it is Christmas Day but they get to enjoy eating a piece of chocolate every morning before they go to school – a great way to start the day!
The kids will love that they will be able to eat chocolate every day and this should keep them well behaved too. Advent calendars can be so versatile too, they never go out of fashion as you can get all sorts, for example if your child didn't want a chocolate calendar you could get a Lego one instead. So every day leading to Christmas you will have a Lego character instead.
If you're like us and still love advent calendars at an older age then you will not feel left out at all, as if you're older than 18 you can get an alcoholic calendar if you wished. Alcoholic ones unfortunately cost more money however it definitely makes it more enjoyable than chocolate – just don't have it in the morning!
An advent calendar is one of our favourite traditions on the list, and is one we strongly advise you, your friends and family get involved in this Christmas.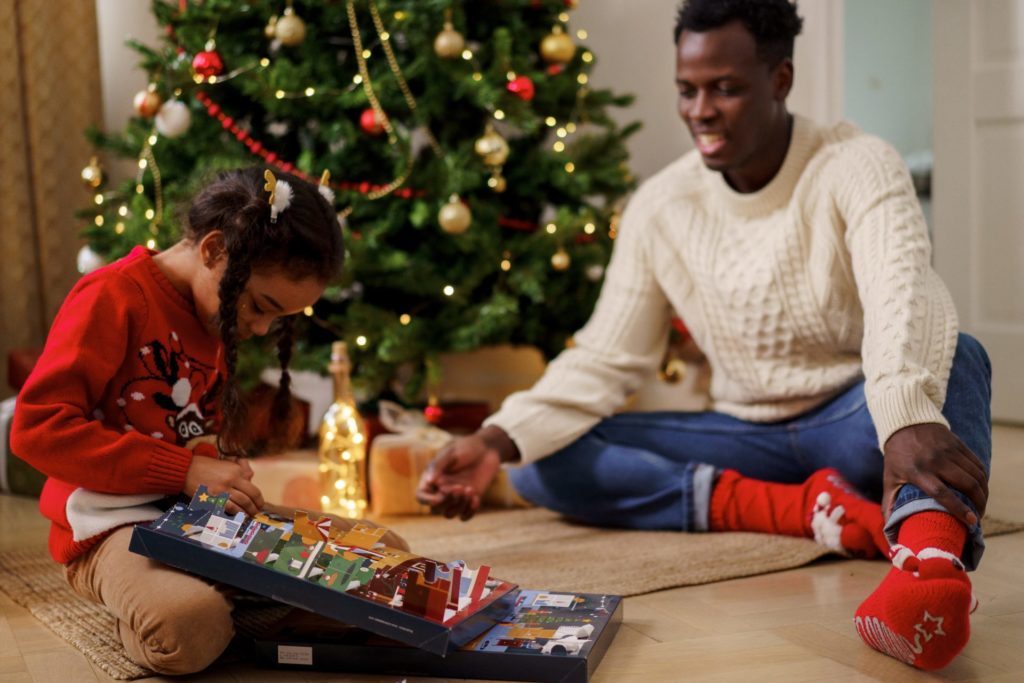 Ice Skating
During the festive period we associate many things to do with Christmas. What always comes into peoples minds straight away is ice skating. This is clearly because during winter time it's always cold and ice is common, however, during modern society it has become so much more. In every big city during Christmas there is always an ice skating rink specially designed and themed to encourage all tourists to visit and have a go at ice skating. 
It seems very daunting and difficult at first because ice skating is no easy challenge – it's much harder than it looks! It may be hard but it's a fun activity to get involved in. It's for all friends and family so you can make a great afternoon out of it and the prices are not usually expensive either, so it's an ideal day out just before Christmas.
This activity has become a great new tradition during this festive period and it is one we really love, so we encourage all to invite their friends and family for a magical time ice skating. It might not be as easy as it looks but it's well worth the trip!
View this post on Instagram
Attend Christmas Markets
Food is always associated with Christmas which is why some people put on a little bit of weight during the festive period, but with it being 'Christmas' that extra food is always allowed. The temptation is always there and we can not get away from it, however, we don't want to!
People from all over the world come to the UK and set up Christmas Markets which has become a new tradition in today's society, and it is not hard to see why. In Manchester they have one of the biggest markets and it is well known worldwide, which is why it brings in so many tourists every year.
The food and drinks they offer in every stall are unbelievable, the quality is so high, all at very good prices. You could easily have an afternoon out there with the amount of stalls that are in the streets – they're all spread out too so you can go to more than one area. 
These German markets completely transform the city of Manchester, bringing the festive spirit, beautiful lights the list goes on. It truly makes it more magical and it's because of that this tradition is on our list. We highly recommend you visit as you will not be disappointed – just don't go crazy and eat all the food!
View this post on Instagram
Cookies and Milk for Santa
A classic tradition we love that has been going on for years is leaving cookies and milk for Santa. This tradition is greatly loved by children as it gets them excited and ready to wake up on Christmas day knowing that Santa has left them their presents. Leaving cookies and milk is a good lesson to teach your children too as it shows the importance of giving back and being thankful.
The kids will also buy into the fact that Santa is real and magical by leaving him cookies and milk before they fall asleep. As long as they don't wake when Santa eats the treat they left for them, then they will still get their presents when they awake in the morning.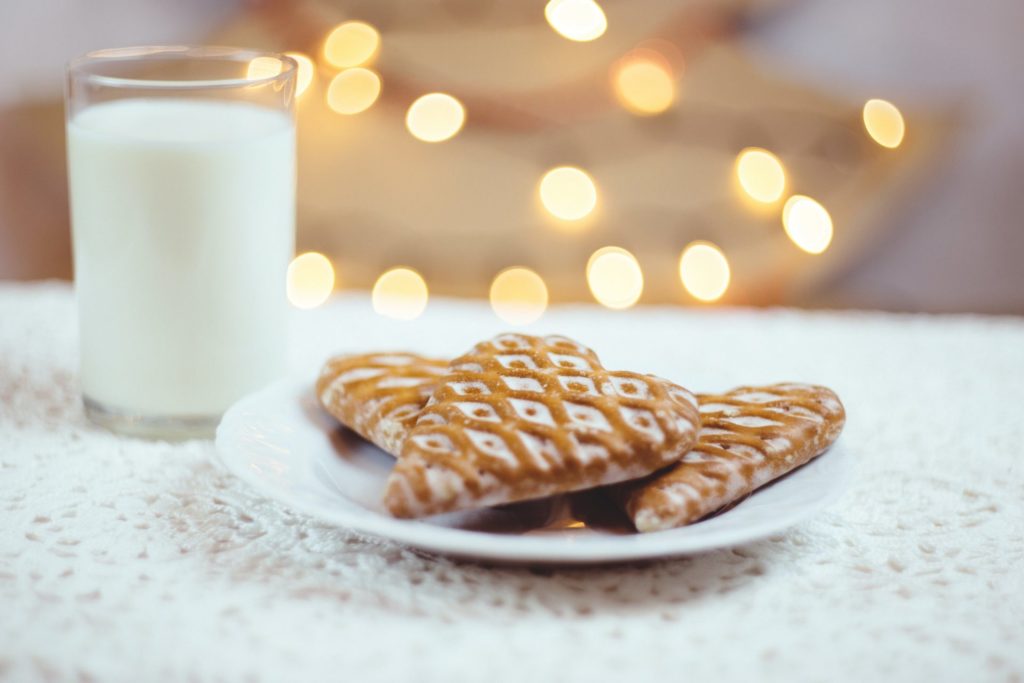 Gingerbread Houses 
Not only do they look stunning but they're also delicious to eat. This classical tradition originates way back to when Queen Elizabeth I was in power, however, the Germans lay claim to starting this tradition as two German brothers wrote a book called Hansel and Gretel.
People design and bake all kinds of gingerbread houses and they truly look amazing. The smell of the ginger immediately reminds you of Christmas and makes you want to get into the festive spirit. This is one tradition you should definitely take part in during the festive season, we highly recommend you do!
We hope you enjoyed reading our list of Christmas traditions old and new. If you loved our list then get in touch to let us know what you think and if there are any that we missed off, let us know.