December is here, and with Christmas looming there is plenty to be excited for this winter. 
We associate Christmas with many things such as friends, family, decorations, toys. However, a big theme for Christmas is food and fun, so we have put together a list of recipes and activities perfect for the whole family to sledge into. 
Gingerbread Men
Baking in general is always great but when it's gingerbread men it really makes it that more festive, and it's a good way of bringing people together. 
It's simple to make, yet so delicious and carries the most beautiful ginger fragrance which lures you in instantly. The golden-brown look makes it that more inviting and tastier – perfect for children to bake
How to make Gingerbread Men
The main ingredients you will need are:

Ginger

Flour 

Cinnamon 

Butter

Brown sugar

Golden syrup 

Bicarbonate of soda

Egg 
The preparation only takes between 30 minutes to an hour, and the cooking time is between 10-30 minutes.

It's a nice activity to do if you're snowed in for the afternoon! If you would like a more visual tutorial on how to make gingerbread men then please follow the YouTube link below.
Make sure you don't forget to put icing on your luxurious gingerbread men as using icing makes it that much more exciting and you can design anything you want in it. The kids will love being able to decorate it as much as they want, the more the merrier!
Handcraft Mug
This is a great way to keep your children entertained just before Christmas. Creating a stylish yet elegant handcrafted mug which is perfect for pouring a tasty, warm hot chocolate into, will make your children love you even more! It's a nice way to enjoy some time together this Christmas.
Get a fantastic Christmas themed mug, beautifully handcrafted for your children. We use a perfectly safe process to make it.
All this is done safely at our studio, and your child will love the entire process.
To view this product in full, please click here.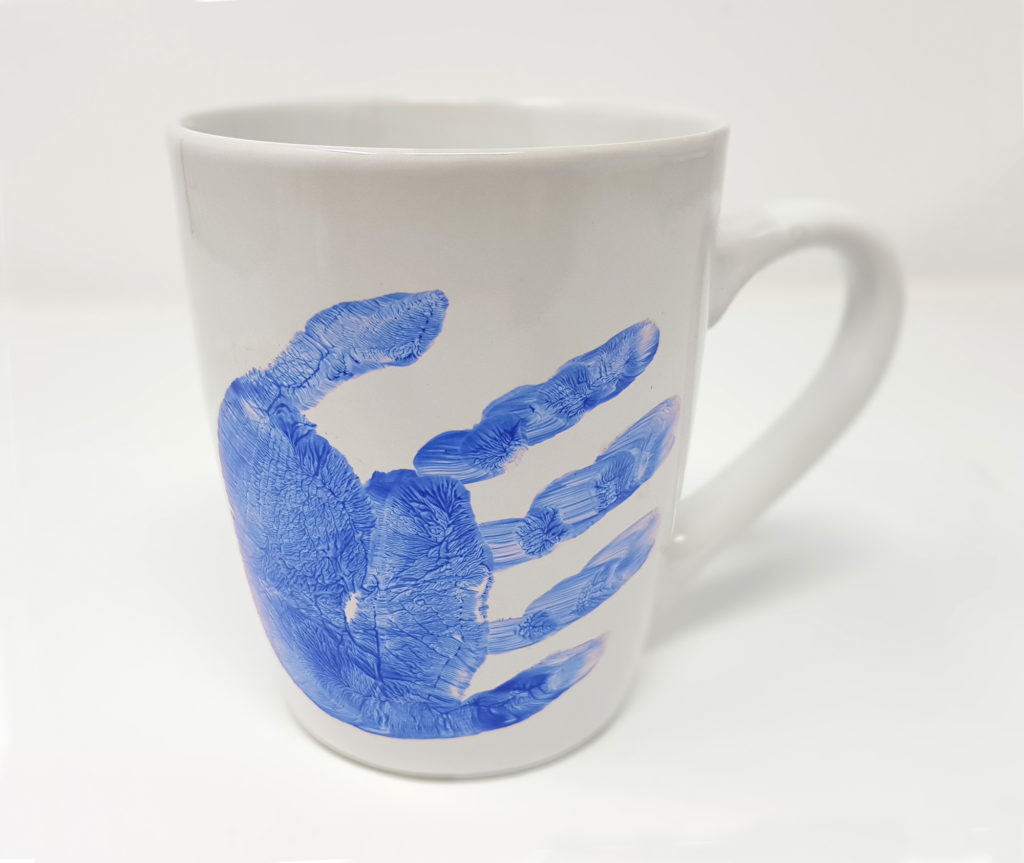 Christmas Wreath
When it comes to the festive season everyone's house lights up as it is full of decorations – a sense of magic roams through the air. One piece of decoration that makes it more festive is a Christmas Wreath. 
A Christmas Wreath dates way back to the time of Jesus, each item on the wreath represents Christ when he was on the cross, bet you never knew that!
As the years went by people started adding their own  decorations to make it more fun and exciting to create.
How to make your own Christmas Wreath and the items you will need
Wreath base, 

Wire cutters

A reel of florist wire, 

Florist stubbing wire (for pine cones, berries etc)

Secateurs
Cut the materials to the size that you would like. 

Secure the wire to the frame and wrap it round four or five times. 

Lay your first shaped bundle on top of the base and secure this by wrapping it a couple of times, continue to lay bundles and keep securing them as you go a long. Make sure to leave no gaps. 

To finish, tuck the last bundle under the first and secure the wire by wrapping it round the base several times and cutting the wire. 

Finally, decorate the wreath afterwards by adding ribbon, pine cones, berries, cinnamon sticks and many more. 
If you would prefer to see a more visual tutorial of how to make a Christmas Wreath then please click here.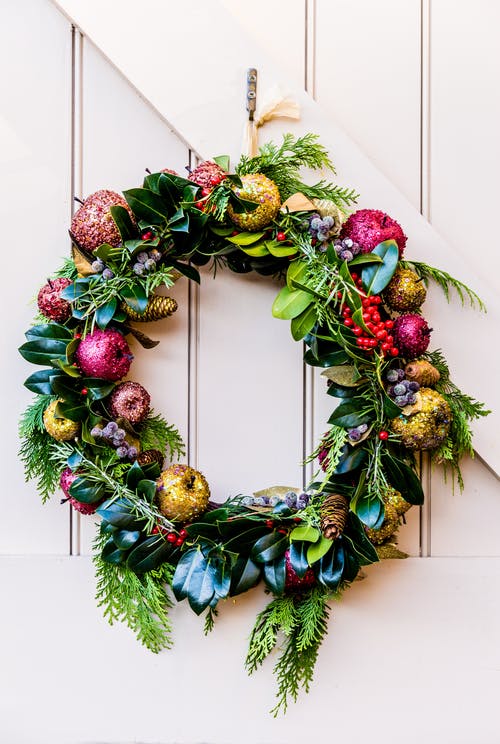 Christmas Treat Jar
Christmas treat jars are a wonderful idea to keep all your treats in, cover it in glitter and it makes it that much more magical.

You can make these to any size that you would like. It's a quick and easy craft to make with the children, great for when you are having a party and there is lots of chocolate to go round! 
If not for a party, how about as a gift to a friend or perhaps even your neighbour if you're feeling extra festive? There's a really simple method to make these, and we have simplified it even more so its even easier for you to make. Here are five steps to make your own Christmas treat jar.
Start by covering your jar with a layer of decoupage

Pour glitter all over your jar, fully covering it and leave it aside to dry.

Hot glue two googly eyes in place and a pom pom for the nose.

Cut one brown pipe cleaner in half then snip 1-2 inches and wrap them around the other piece so that you shape it into an antler.

Hot glue this to the lid and you're all finished.
Gingerbread House
It's amazing how sweet treats double when it comes to Christmas time. One taste that always comes to mind this time of year is ginger.
If you're bored of making gingerbread men then how about challenging yourself to make a house instead? 
Follow our instructions and you can make your dream gingerbread home, crafted from sugar, spice and everything nice!
https://www.instagram.com/p/B5V1-k3pswX/
How to make a Gingerbread House
Heat oven and melt ingredients into a pan.

Mix ingredients into a large bowl then stir in the pan mixture to make a stiff dough, add a splash of water.

Cut out template place a sheet of baking paper on work surface. Roll dough to thickness of two one pound coins. Cut out one of the sections then slide gingerbread onto the baking sheet.

Repeat this so you have two walls, a front and back and two roof panels.

Carefully place flaked almonds into roof section, so looks like roof tiles. Bake all sections for 12 minutes or until firm. Leave to cool for a few minutes.

Put egg whites in large bowl with other ingredients to make icing. Put icing along the walls to join them together.

Once dry remove the support, and fix roof panels on. Dry overnight. Put icing along the length of 20 mini chocolate fingers, stick together length ways on the side wall of the house. Use three for  the door.

Use icing to stick sweets around the house. Cut flake to make a chimney.

Dust the roof with icing sugar to create a snowy effect, then lay a winding path of sweets.
If you would like to see a more detailed version of this method please visit this website.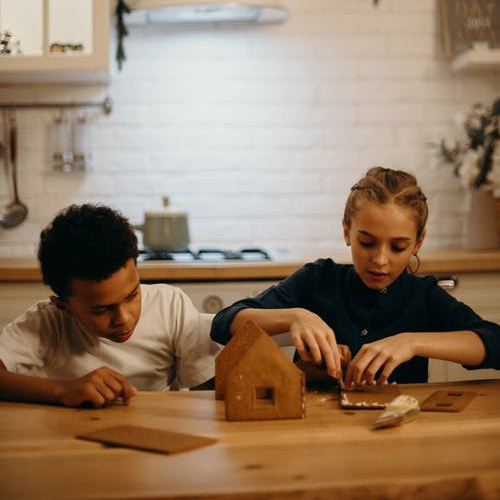 Popsicle Stick Christmas Crafts
If you're looking for an easy craft to make with the kids, then look no further than these Christmas Popsicle sticks. Kids will love the variety of ornaments they can make, from Santa to a snowman, this really is a simple and effective craft that guarantees to be a huge hit! 
The best part of this is that you can hang them on the tree afterwards, so you can show off your child's masterpiece to all of your family and friends.
How to make a Popsicle Santa and Snowman
Snowman: 
Snowflake sticker

Sharpie

Red glitter paper

White and black paint

Small black buttons
Santa:
Small red pom pom
Googly eyes
Cotton balls
White pom pom
Small black buttons
Red paint
Tea Light Snowman
Christmas is a wonderful time of year for people to get involved with crafts and get into the festive spirit. Snowmen are a popular theme you associate Christmas with, however, not everyone around the world is fortunate enough to have snow where they come from. So how about crafting one that is for all year round and is easy for kids to make.
Tea light snowman ornaments can be put on the tree or as a gift to someone, either way, one thing for sure is that it will light up your child's face when the snowman's nose glows.
How to make a tea light snowman
Use a black sharpie to draw a face on the tea light

Cut a piece of red pipe cleaner approx 2.5 inches, curve it around tea light, then add small dab of hot glue on both ends to hold in place.

Add generous dab of hot glue where the ears would be and add pom poms.

Cute one piece of ribbon, cross it over and add a dab of hot glue.

Add small line of glue to the back of the scarf – glue it to the back of the tea light.

Cut thinner piece of red ribbon, slide it under pipe cleaner, tie tiny not in ribbon to keep it together.

Use orange sharpie to colour in the nose (flame)
Whichever idea you like the sound of best, I hope you, your family and friends have a magical Christmas. If you decide to cook or create any of the ideas above, it would be brilliant if you could send us a picture of what masterpiece you have created! If you have any other Christmas ideas then please contact us we would love to hear more about what you have created.