At Baby Casts & Prints, we've spent several years working on our range, going from framing our beautiful baby castings to mounting them on stunning acrylic blocks, or hanging them upon heart-shaped slates.
We've continued this expansion into creating products that stand-out even more, and are delighted with some of the latest additions into our range of adorable keepsakes and gifts.
Here are some of the products recently added to our range, including new options for studio castings, and an expansive range of DIY kits.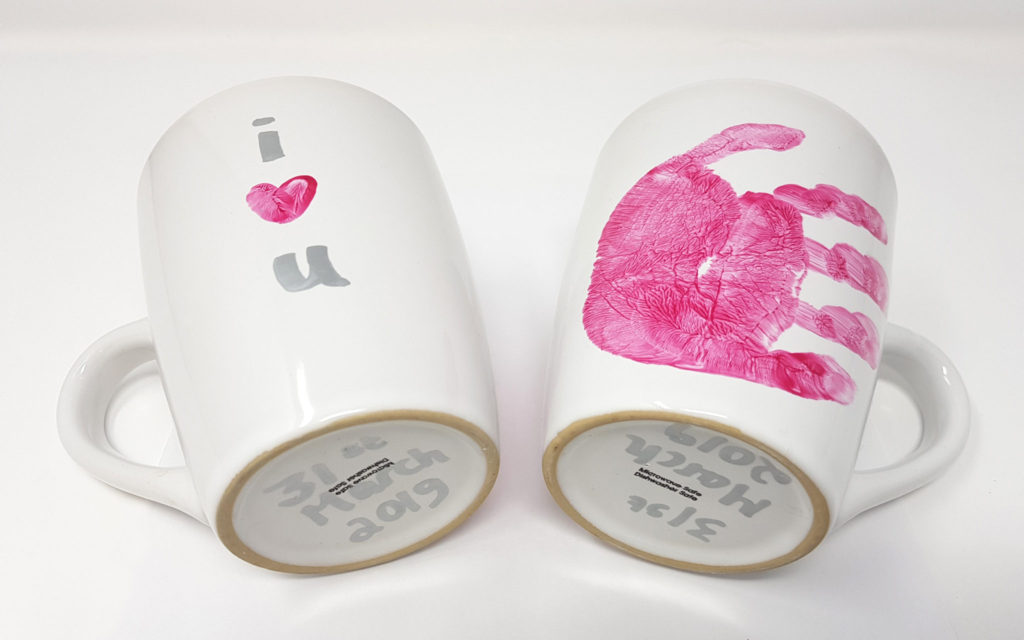 We're delighted to introduce a low cost gift option to our studio castings & prints range, in the form of a new high quality personalised mug.
It's the perfect way of encapsulating a memory of your baby as they grow up, with us using a harmless, skin-safe paint to create a hand or footprint of your baby upon each mug. After this, we use a heating process that will permanently bond the adorable print to the enamel based mug.
It goes without saying that the paint is easily washable off of your child's hand or foot, and to ensure it looks the best it can, we do make several attempts to get the print just right.
As well as the print on the mug, we also customise each product by adding information such as your child's name and age, or the date of the print. There's also space for a short personalised message to be printed on.
Shop our Handprint or Footprint Mug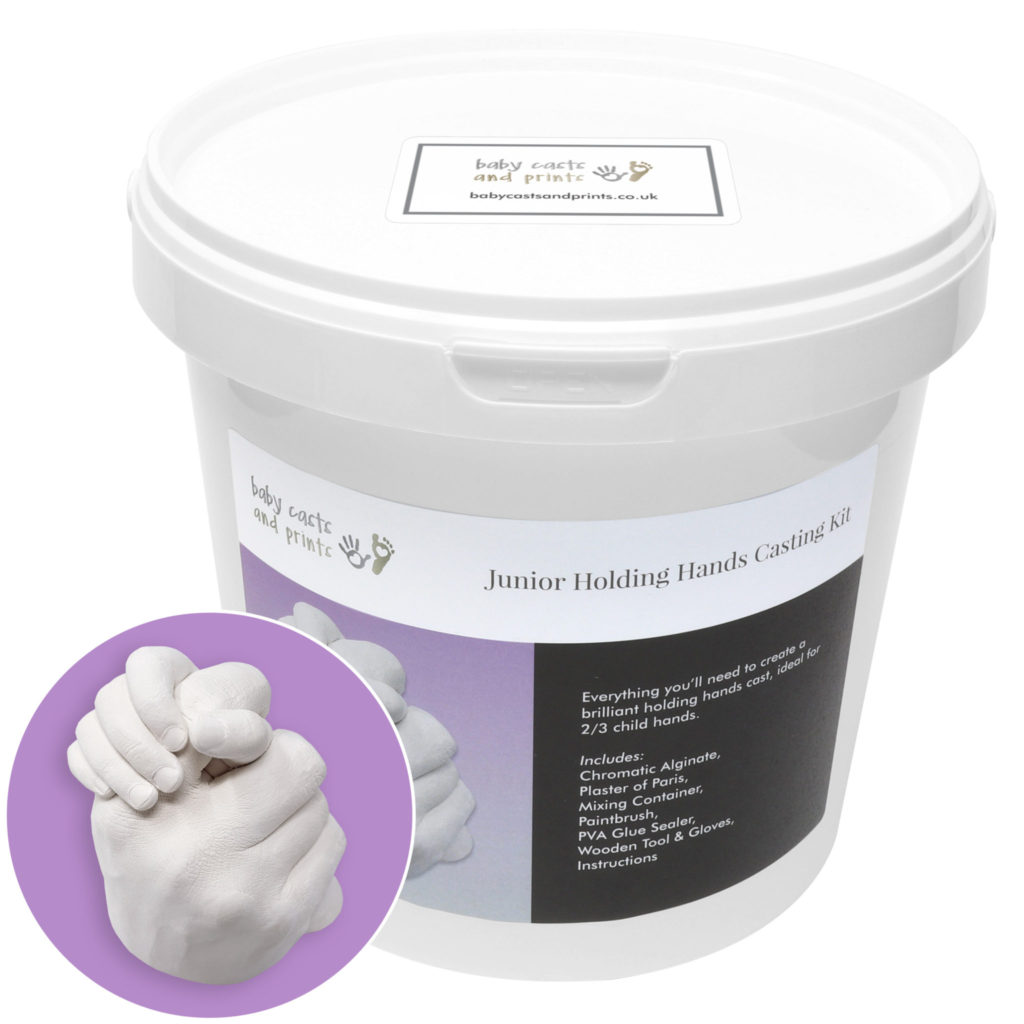 Sibling love creates a bond like no other, and we created this junior kit with that in mind. It's one of the latest additions to our DIY casting kits, and is the ideal size for creating a holding hands casting of 2 or 3 child hands, or 1 adult and 1 child.
By creating what is essentially a smaller version of our standard holding hands 3D casting kit, we're able to offer all of the same top quality contents but at a slightly cheaper price, as it contains just the right amount of product to cast 2 or 3 little hands!
What's included in the kit?
The junior holding hands 3D casting kit comes with everything you need to create your beautiful finished product:
1 x Chromatic Alginate 450g (this is the pink slimy stuff!)
1 x Plaster of Paris 500g (this is what creates the hard cast)
1 x Casting Bucket
1 x Set of Cast Tools – paintbrush, wooden pick, PVA glue and latex-free gloves
1 x Instructions
All of our casting kits are perfectly safe for the hands of toddlers and babies, and provide lots of fun for children of all ages with the end result being a stunning keepsake for the family home.
The perfect gift for parents to treasure the bond between their children.
Shop our Junior Holding Hands 3D Casting Kit.
"Easy to follow instructions, the kids really enjoyed the making process. The end product was fantastic. Highly recommended"

– 5* Review of "Junior Holding Hands 3D Casting Kit" on Amazon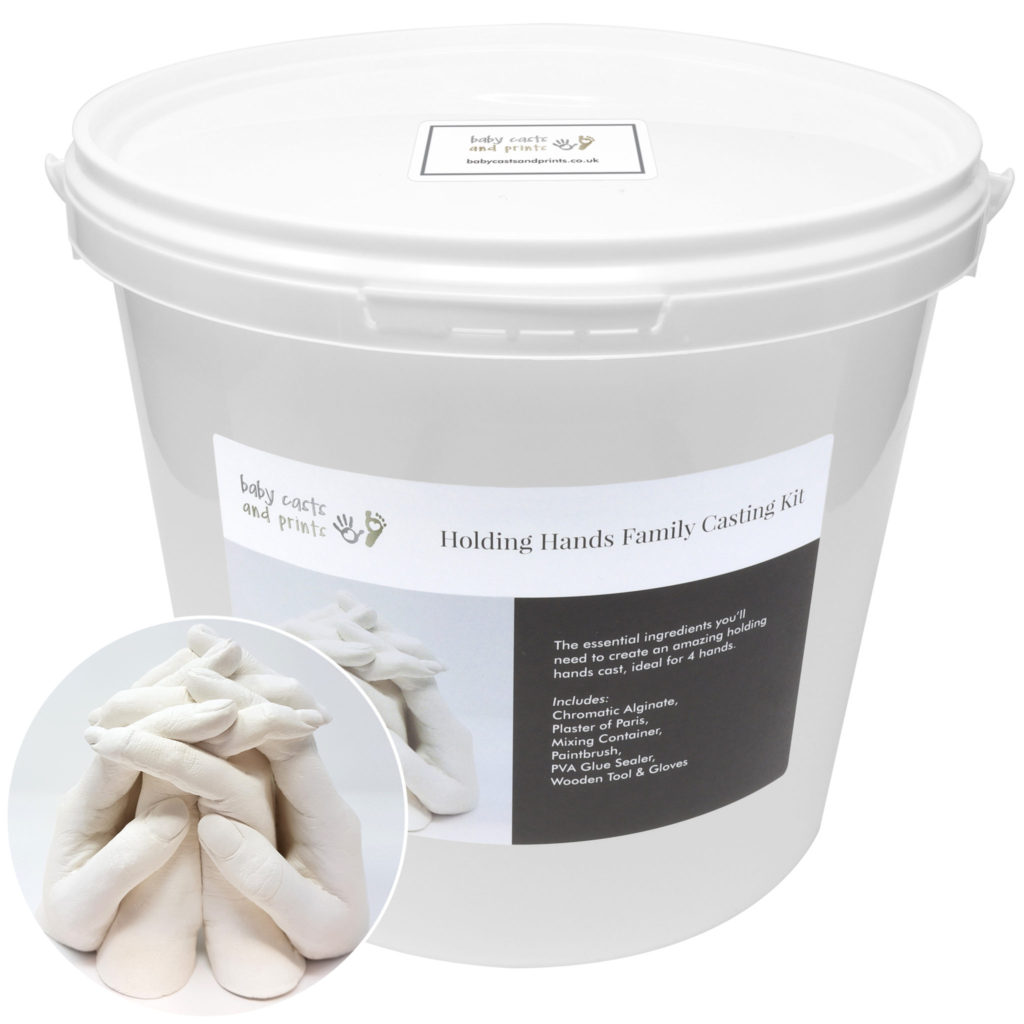 Our biggest casting kit yet! This XL version of our popular casting kits allows for up to four hands to be cast at the same time, in any combination or positioning of your preference.
We've been offering family hand castings from our studio for a while now, and while they have become so popular with our customers, we realise that not everyone is local to our studio to come in for an appointment – so, now you can make your own at home!
What's included in the kit?
We've included everything you need to make the perfect family hand casting at home:
1 x Chromatic Alginate 900g
1 x Chromatic Alginate 450g
1 x Plaster of Paris 1.5kg
1 x Casting Bucket
1 x Set of Cast Tools – paintbrush, wooden pick, PVA glue and latex-free gloves
1 x Instructions
This kit provides the perfect way to cement the bond between generations of the family, from parents and children to grandparents and great grandparents! A truly unique keepsake to treasure for a lifetime – and it's fun for all the family!
Shop our Holding Hands Family XL 3D Casting Kit.
"This product is perfect, we really wanted a family keepsake. Our children loved making it with us and being involved. The instructions are so clear and precise you can't go wrong. The end result looks amazing and everyone compliments how lovely and unique it is. I would 100% recommend this to anyone! Delivery was also very quick. A perfect gift to cherish as a family with young children. Thank you xx"

"I've been blown away with this, I was a little apprehensive and skeptical but needn't have been. It's easy to use, and the instructions lead you through the process. If you want a lasting memory there is no better way."

5* reviews of "Holding Hands Family XL 3D Casting Kit" on Amazon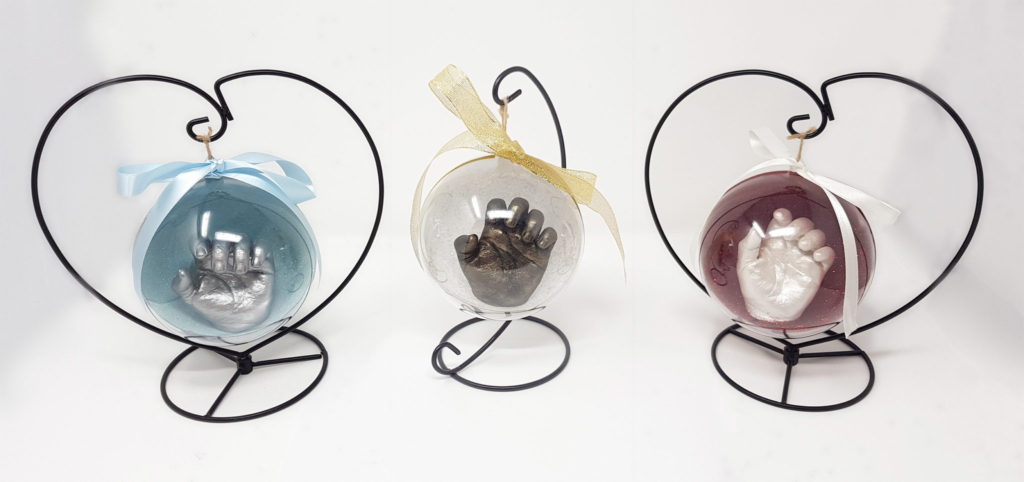 Christmas is a magical time of the year, best spent together with family creating memories and revisiting some old ones.
Over the last couple of years, we have perfected the art of capturing one memory in particular, one that otherwise would have been forgotten save for a photo or two.
We are delighted to be able to introduce you to our Decorative Bauble Casting, which combines a stunning cast of your baby's hand with traditional decoration to create the perfect addition to your Christmas tree.
Here at our studio in Oldham, Manchester we run through the entire casting process with you and your little one in a friendly, relaxed appointment. One the cast has dried, been cleaned and painted, we carefully place it inside the bauble and add the beautiful glitter effect.
Customers can choose from a bauble on its own (perfect to decorate the tree) or accompanied by a standard / heart-shaped stand.
Read more about our casting appointments in the FAQs.
As your child grows older you will always have that reminder of a more innocent time, and we hope you agree that it makes for such a personal, heartfelt holiday decoration.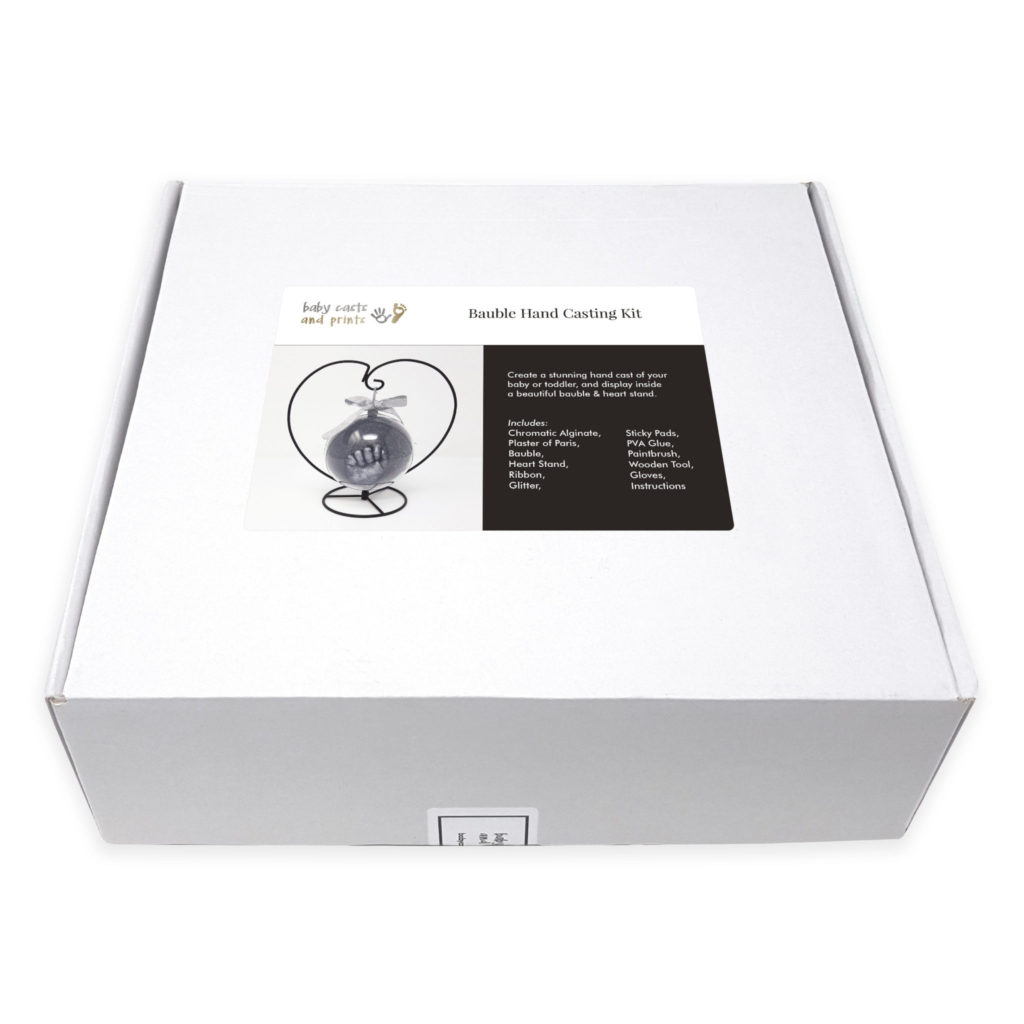 …but what if you can't make it in for a studio casting session here at Baby Casts and Prints? Not to worry. We have also put together a user-friendly casting kit which means anyone can produce a Bauble Cast.
We have refined our instructions into an easy to follow, step-by-step guide that will have you casting in no time.
The process goes a little something like this:
Create your mould using the chromatic alginate
Pour your plaster of paris into the mould
Remove the moult to reveal the hand cast
Paint the hand cast
Insert the cast into the bauble and display!
The casting set comes complete with everything you need to create your own, including a paintbrush, wooden pick, PVA glue, and latex-free gloves. The kit contains enough alginate and plaster to create two casts of a newborn baby or one of an older child.
Watch the process in full below.
Why not order during the approach to Christmas? A time synonymous with arts and crafts, you can make an occasion out of casting your young one's hand for the first time.
---
Got a question about any of our products, or wish to book an appointment? Get in touch with us today and we'll be able to help you out.
Be sure to follow us on Twitter, Facebook and Instagram.