Creating kids keepsake crafts is the perfect way to treasure special memories, and keep the little ones entertained at the same time!
As a parent, nothing quite beats that special moment when your child presents you with a handmade gift. A special, unique gift that you know you will treasure forever – no matter what it is.
That's the great thing about crafty keepsakes, they really can be anything! They don't have to cost the earth either, you can make some pretty awesome things from household items or generally quite inexpensive craft supplies.
So, whether you've got a loved ones birthday around the corner and want to make a thoughtful, personalised gift or just want to get crafty, get the kids involved with some of our favourite budget-friendly keepsake craft ideas.
Salt Dough Handprints
A great way of getting children involved in fun crafting, with an end result that you'll hold onto as a lovely keepsake.
All you need is some salt, flour and water, with a dough making process you can get the whole family involved in. Once the dough is ready to use, you can get your children to press their hands into it, to create a handprint mould. 
After that, the dough needs to go into the oven for a couple of hours to set, and once hardened and cooled, it's onto the most fun bit – the decorating!
Some child friendly paint, glitter, and other materials can all be used by your children to create a unique ornament, and something you'll be sure to keep as a memory for years to come.
The process of dough making and baking the ornament does have a few steps to follow, all of which you can find in detail over at thebestideasforkids.com.
Child's drawing keyrings 
We LOVE this idea from Messy Little Monster! 
Keyrings are a simple and cute gift for any occasion, and they are the perfect addition to your set of keys. It doesn't get much better than keyrings with a sentimental value either, so these will make a fantastic gift for family members.
Children love drawing, so there isn't too much effort required on their part, and turning them into a keyring makes a much more memorable keepsake than sticking them to your fridge door!
The method of making them couldn't be easier either, and all you will need is:
White shrink plastic

A keychain for each drawing

Sharpie pen
Simply create your drawing on the white shrink plastic, before cutting around the edges and punching a hole in the top. Then, just bake the drawing in the oven as per the instructions on the shrink plastic – watch your drawing shrink before your eyes!
Once you've got your nicely shrunk drawing, add it to the keychain and you will be left with a lovely little keyring to treasure.
Clay footprint dish
Here at Baby Casts & Prints we love anything to do with little hands and feet, so when we saw this super cute clay footprint dish from Stay at Home Crafter we were in awe!
This lovely little clay footprint bowl is an adorable keepsake for the home, and a great way to treasure the memory of your little one as they really do grow up too fast. We love the idea of using it as an ornament to keep on display and store bits of jewellery or other special items.
To make a clay footprint dish you will need:
Oven bake clay

A small bowl

Rolling pin

Wax paper

Baking sheet

Paint in any colour of your choice

A paint brush & foambrush

Mod podge

… & a little set of feet!
Head over to Stay at Home Crafter here for a full step-by-step tutorial on how to make your very own DIY clay footprint bowl.
Photo frame
Homemade picture frames are an easy yet meaningful gift for a child to give away, especially when coupled with a lovely photo. Who doesn't want to receive an adorable photo presented in a thoughtful keepsake?
Generally these are really easy to do and only require a handful of products to make happen. For younger children you may wish to keep things basic by using cardboard and some decoratives, while older children could experiment with plastics and soft woods.
For a basic photo frame you will need, roughly:
Photo to insert

Thin cardboard (avoid heavy duty packaging type)

Acrylic paints

Craft items such as sequins, gems and glitter

PVA glue

Scissors

Paint brush
Kids love to paint and decorate so we suggest building the individual parts yourself (frame, back panel and stand) then letting them go crazy with the decoratives.
Happy Hooligans have a great tutorial that is worth checking out.
Memory box
This starts off as a simple idea that develops into a fun crafting session with an end result that can be used in many different ways.
It's commonplace for parents to hold onto memories of their children's early years, often storing things such as old baby clothes, drawings, and more.
This crafting idea turns this process into something fun to do with the children the box will be about.
All you need is a plain wooden box of reasonable size, which you'll use for storing everything from your baby's maternity ward tag, to old toys and keepsakes.
You can sit down with your child and enjoy a crafting session – allowing them to decorate the box their memories will be stored in creates an additional memory! Paint it and decorate it in a fun crafting session for a cute and quirky end product.
Magnet decoration
If you want to make a keepsake that you get to see on a consistent basis then you might want to consider something to stick onto the fridge!
There are plenty of options out there for you to buy plain, decoratable magnets and that's the beauty of this keepsake craft idea – the only materials you will need, really, are the ones you choose as decoratives.
The best way to go about crafting your own fridge magnet keepsakes is to buy adhesive magnet strips and then stick your decorative piece onto that. Some materials that work well are rock clay, canvas and plastic.
You will need:
Adhesive magnet strips

Base for decoration (canvas, etc)

Decoratives

Paint brush

Felt tips

Glue gun or super glue
As with above, Happy Hooligans have a great piece on how to go about this.
Handprint mugs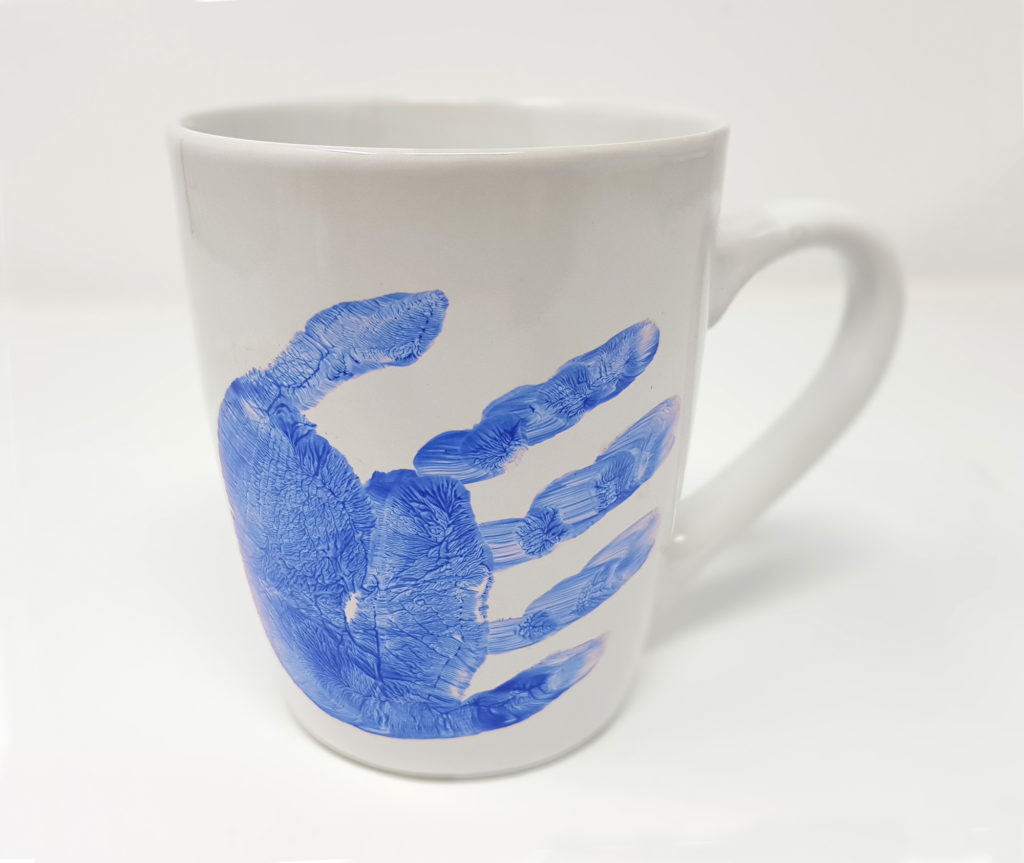 Last but by no means least, you can decorate an enamel mug with real-life handprints right here at Baby Casts & Prints.
It's the perfect way of encapsulating a memory of your baby as they grow up, with us using a harmless, skin-safe paint to create a hand or footprint of your baby upon each mug.
After this, we use a heating process that will permanently bond the adorable print to the enamel based mug.
Learn more about this keepsake here.
For a beautiful crafting session with the whole family, why not try one of Baby Casts & Prints' full DIY casting kits. Each kit features everything you need, and detailed step-by-step instructions, to create a beautiful lasting memory for you and your family to enjoy.